If your wedding is a day that you will never forget, the invitation should also signify that. With our years of experience of designing for our clients, we at WeTales decided to make a trend list for you. Yearly trends will come and go but here are few of the invitations that will never grow old!
1. Royal Invitation Design: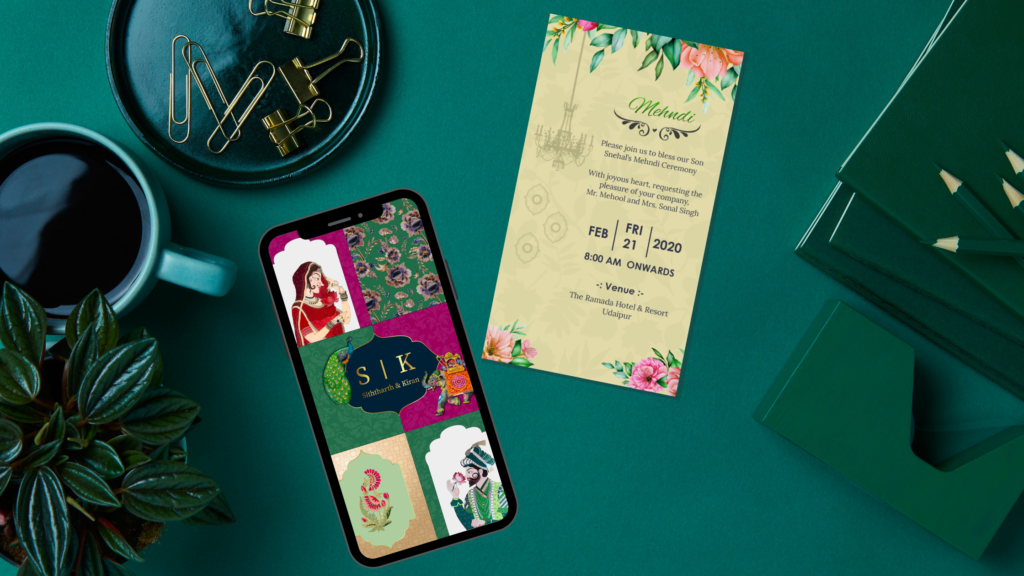 India is a land of a royal culture that reflects in its way of life. These days, weddings are themed around the idea of 'Royal Wedding'. These weddings are lavish and high on budget. Such themes demand a 'Royal Designs' to match the larger-than-life vision of the hosts. These designs are created under exquisite craftsmanship using shimmering finish, traditional designs, antique patterns, and royal colours. Many times, the theme is also inspired from popular Bollywood films such as Jodha Akbar, Padmaavat and Ramleela.
2. Water-Based Invitation Design: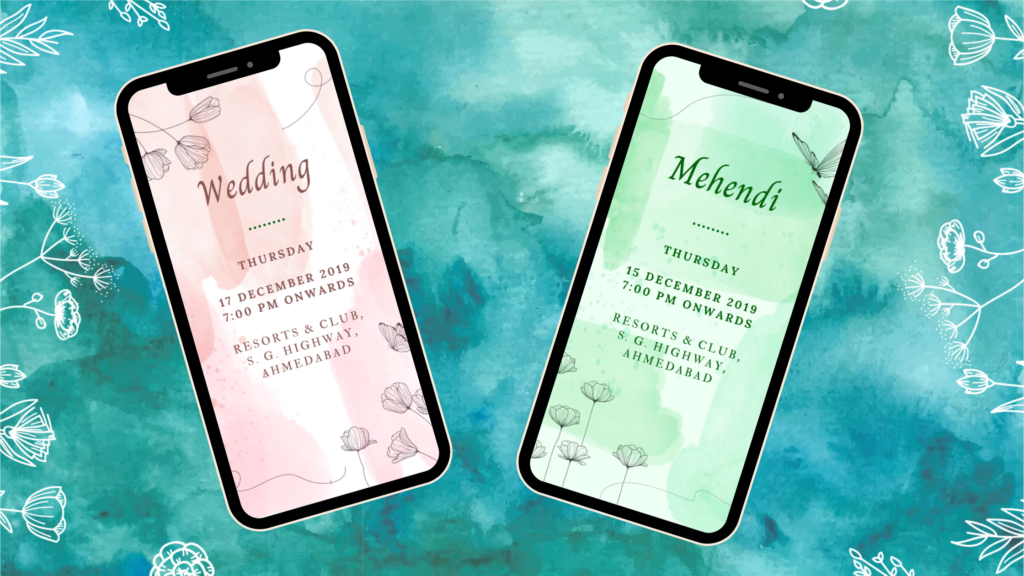 Watercolour based designs have a subtle way of adding element and uniqueness to your invitation. It has a delicate, romantic feel when matched in pastels while it can give a bold vibe when brushed with bright colours. The idea is to choose something that goes with your overall wedding style. These elements can be added to your wedding website/app, email, other wedding stationeries, etc. Many of our clients also request getting their beautiful venues water-colour painted on the invitation card. It is a unique style that makes a card memorable.
3. Tropical Theme Invitation Design: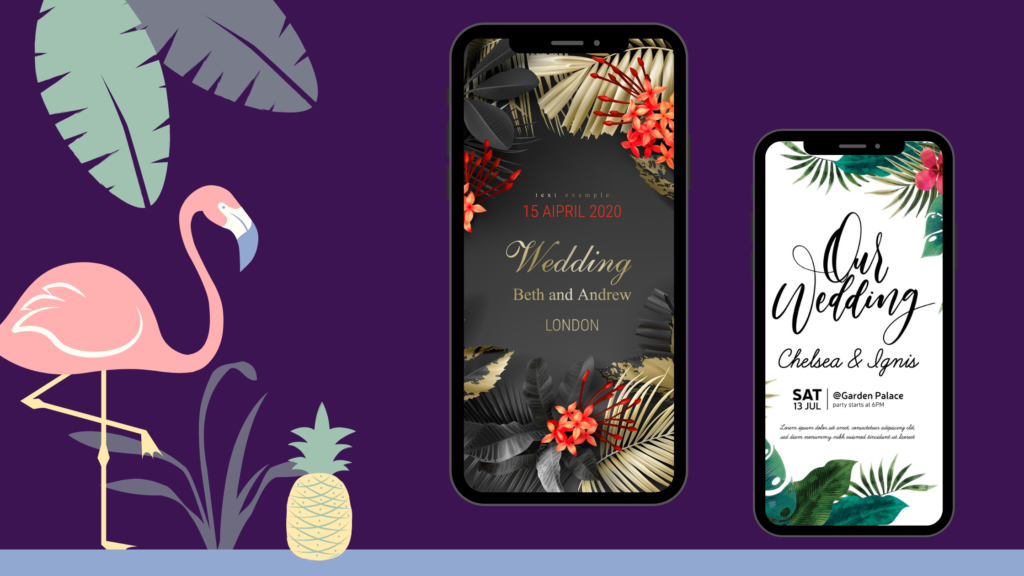 If you have a vision for a tropical wedding theme, it will have a vibrant feel to it. Even if it is in the hustle-bustle of the city, it will feel like an escape to the tropical islands. You can expect to see a mix of details that work with casual, rustic and modern styles. They can also have a gorgeous botanical view with an island-style cool vibe to it. Tropical fruits, flowers and trees can have a great presence in these designs. These styles are especially requested for destination weddings in Goa and other beach places to match the vibe.
4. Caricature Invitation Design: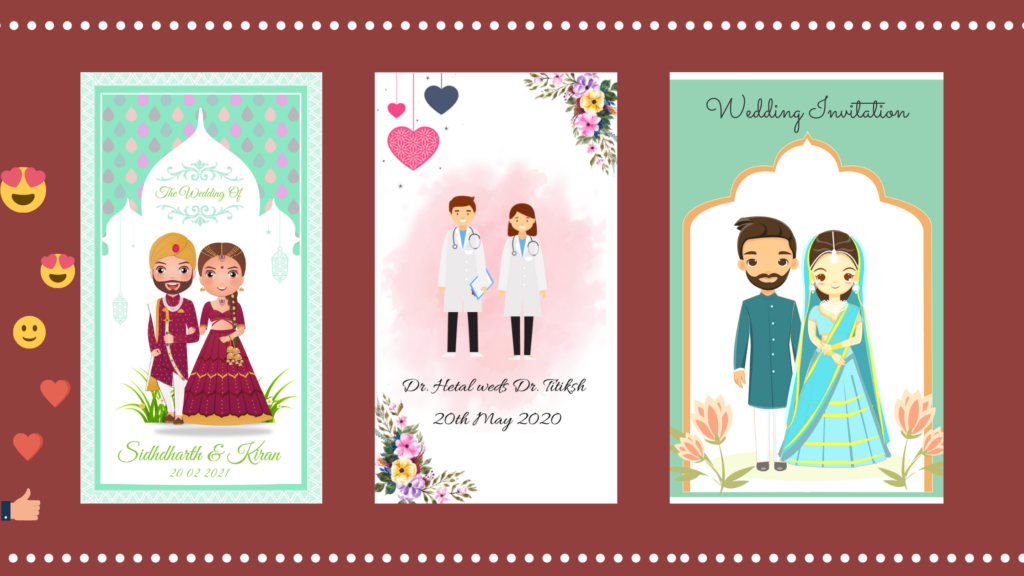 Humour is the key to a great romance. For certain couples, being unique and fun in all aspects of their weddings is the most important. To them, we suggest caricature-style invitation cards. These caricatures are usually mocking, cartoon versions of themselves that look cute and adorable. Best part about these is that each design can be perfectly unique. You can choose what defines both of you. This one is a new entrant in the market and is here to stay because of the appreciation it gets.
5. Modern Geometric Patterns Invitation Design: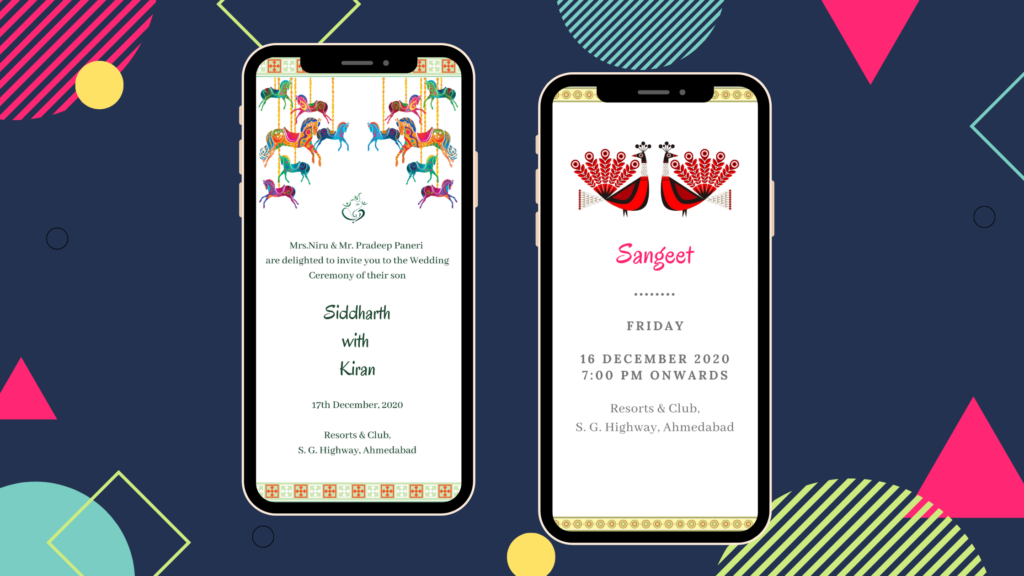 For the love of Geometry! This one is fresh out of the box. Many clients look for abstract inspirations when it comes to their wedding. They may not want the wedding theme or the card to signify something in particular. Everything just needs to look in sync, pretty and elegant. Facets, triangles, rectangles- you name it, we have it. As per the requirements, bold lines could give an edgy contemporary feel to the invite while adding graphics to it can give an eye-catching design. This one is popular with couples who like to step away from the traditional idea of celebration.
6. Theme-Based Stationery Invitation Design: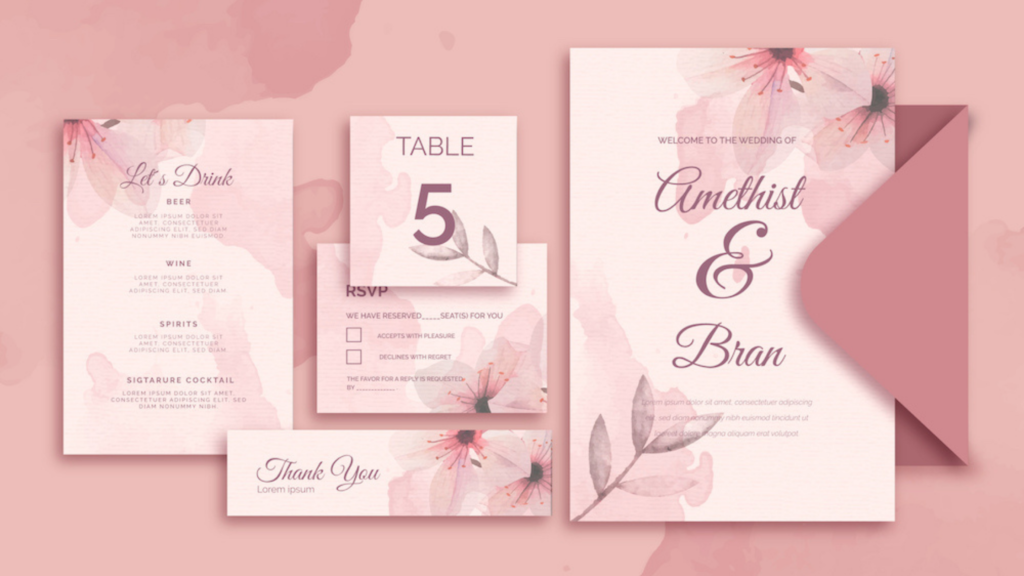 For the couples who are in love with the idea of an aligned wedding theme, this is a new concept that checks all the boxes right. Theme-based stationery can include anything from room/name tags to Save the Date invites to wedding brockets. This idea also ensures that nothing important is missed out. It showcases your wedding colours and personalises your event in the best way possible. If done right, it will give a consistent look and a luxurious feel to your celebration.
Wedding Invitations can be a headache. However, with India going digital, we have seen the shift from physical cards to digital invitations on Whatsapp, Email, SMS, etc. We have an excellent team of designers who are known to create beautiful and delicate art that you will fall in love with. And not just that, they will be seamlessly delivered to your guests, whenever and wherever you want! Checkout Digital Invitations at WeTales now!