Wedding is undoubtedly the most important day of our lives. We want everything to be in sync and precise. Wedding invitations are known to mark the beginning of a wedding. With so many special guests invited, the invitation also becomes like an announcement. The invitation becomes your first impression and now with the possibility of digital invitation, you have a chance to show your excitement!
We cannot deny that delivering fresh paper invitations to our near-dear ones is a thing of immense pleasure. But the digital invitations also have a charm of their own. They have an element of surprise and have the capacity to grab someone's attention wherever they are. So how will you go about your invitation? We have ideas!
With our five years of experience of digitising weddings, we at WeTales, know how to add a sparkle on your Whatsapp wedding invite.
Top Six Unique Ways To Create a Whatsapp Wedding Invite
Text Invites:
These invites are generally used when there is a good story to tell. If you have a great love story or you want to use poetry in your invitation, the text invites give you the luxury to use the exact words that come to your mind. There are many free resources online, where you can copy-paste/edit and use some of the messaging too. Below are some samples.
Niru & Pradip Sharma
request your gracious presence on the Wedding Ceremony of their son
Siddharth with Kiran
Daughter of Mrs. Raj and JP Sharma
on Sunday, the 14th of February, 2020
at Beach Resort, Goa
Assembly of Baraat – 5:00 PM
Wedding – 6:00 PM
Love fills the moment
And the moment begins eternity.
We heartily invite you, our family & friends,
To share in the celebrations as our children,
Tushar Jhadav
And
Pranika Deshmukh
Extend the bond of friendship
To include the vows of marriage
On Saturday, 23rd February 2021
At 7:00 PM in the evening
Wedding Ceremony Party plot, Mumbai
Regards,
Jatin & Sudha Jhadav
When you are ready, just copy-paste it to your contacts! Well, if you have too many contacts, just let us know. With our automated tool, it is just a click away!
E-Cards:
If you want to set the tone of your wedding with a theme or specific colors, E-cards are helpful. There are varieties of options that are currently in trend you can go through current Top 6 Wedding Invitation Trends. These little things add a spark and make your wedding more memorable. Online tools such as Canva, PhotoFunia or Wish2Be can be used to create caricatures from photos.
Video Invites:
In this age of short attention span, what is better than a video invite? Yes, you need to pull it off well. It can be shot in a pre-wedding, jazzy, Bollywood style. A pandemic-inspired solution is that you can shoot and edit it like an interview, even make your parents a part of the invite! Such videos can be shot from the comfort of one's home but yes you need to know a bit about the camera-angle, the lights, the frame, video editing, and such important things. But which trend comes easy? There are free online software like Animoto, flexclip, Animaker, etc that can be used for this.
You can also Check: Wedding Invitation Videos
Wedding Website: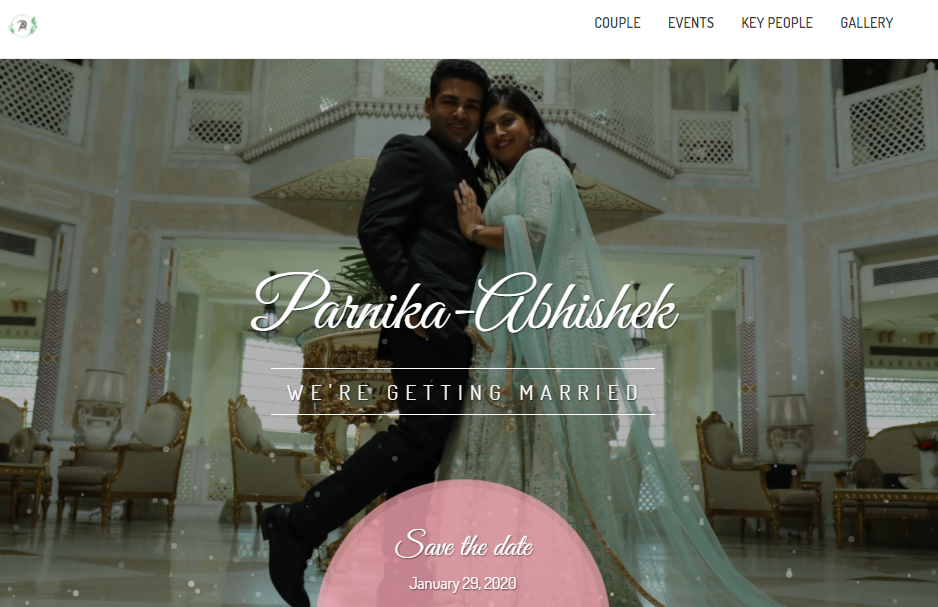 Websites for weddings have been in trend for years now. But if you are acquainted a little bit with website coding or tools like WordPress and Wix, you can create a unique Wedsite, the link of which can be easily shared on Whatsapp. Now not to flaunt, this is actually our area of expertise! We have unique templates and an amazing team that can get your website up in no time!
Website App:
Now, this we won't recommend doing on your own. But imagine a customised website for your wedding? It will have everything starting from your story to logistics to RSVP to event itinerary. There's no glamour or royalness that cannot be added on these. Again, we do it with finesse and charm.
Personalised card: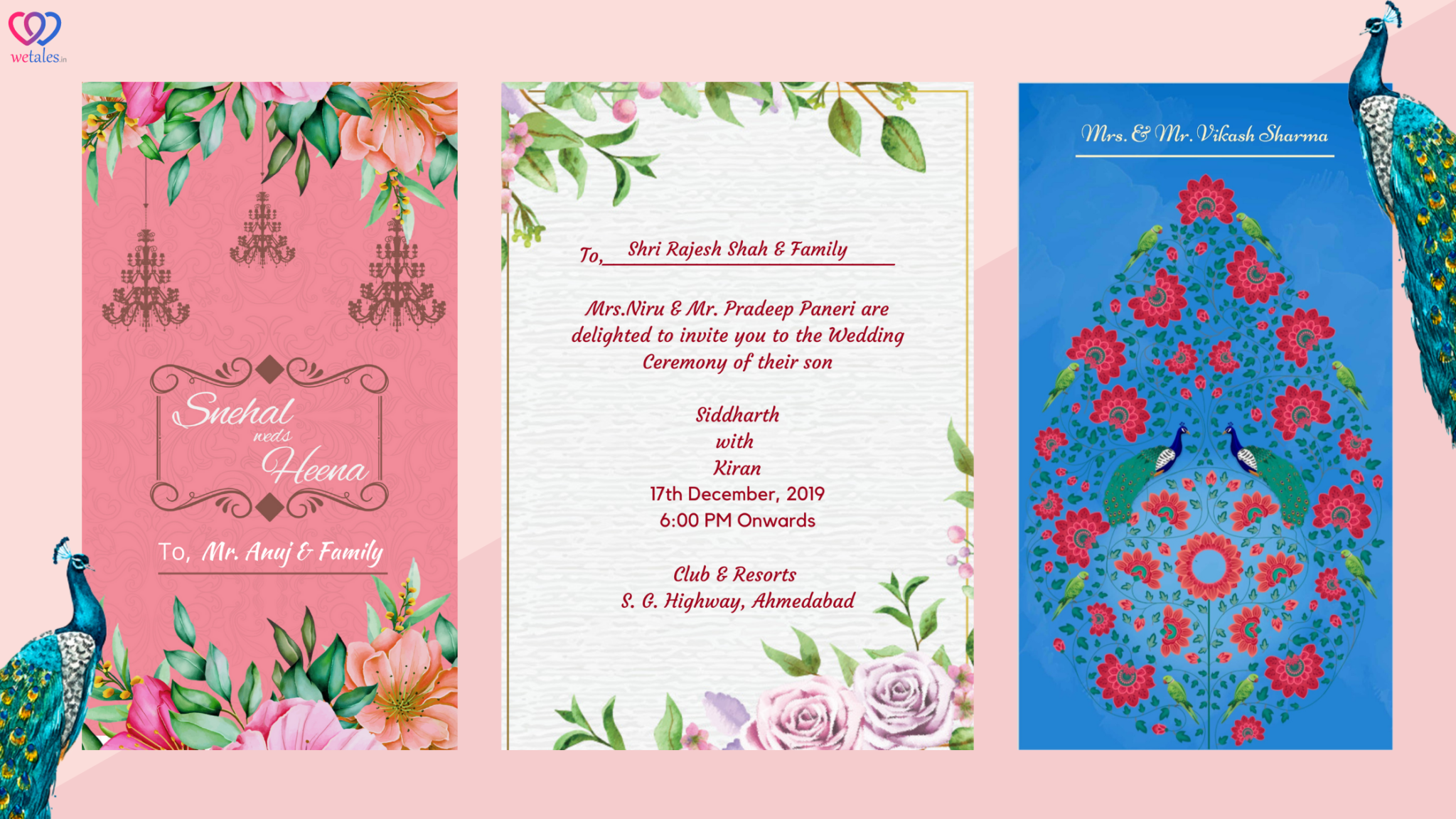 Imagine, you working and going about a day. There comes a notification that has a personalised card with your name on it. How does it feel? Cared and loved? That's what your guests could feel with personalisation. It is relatively easy to create a basic Whatsapp digital invitation with all the online tools. But it can't have a personalised touch. With our automated technology, we can do this job for you.
At the end of this DIY list, we would like to wish you good luck for our wedding. And be sure that if at any stage of this process you need a hand, we will always be there. And guess what, we have waived off the digital delivery free for the coming few months! So just pay for the designs and the rest of your headache is on us! How does your head feel now? Relieved, right? Contact us.